"Gabriel Iglesias: Aloha Fluffy" on Blu-ray!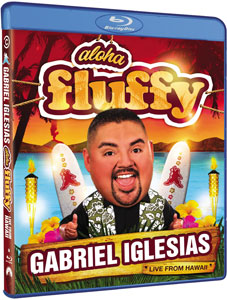 Gabriel Iglesias: Aloha Fluffy

On DVD and Bluray April 9, 2013!

Fluffy's Back With An All New Stand-Up Special!

Internationally acclaimed comedian, Gabriel Iglesias, returns to Comedy Central with his brand-new one-hour stand-up special taped at Honolulu's Hawaii Theatre Center. Watch as Fluffy brings the house down yet again with his unique and animated show that has made him popular among fans of all ages.

50-Minutes of bonus features include:

· Fluffy Presents: Alfred Robles
· Encore - Magic Mike Story
· Outtake
· Behind the Scenes - A 25-minute featurette shot before and after the tapping of the special

Enter to win!

Thanks for visiting EDGE!
Click here to learn about the 365 Gifts Promotion »